Historically, modernity has been utilized to highlight the intellectual prowess of the European man. However, The Black Modern flips the Eurocentric notion on its head. The Black Modern showcases the contemporary cultural and intellectual production of the Wesleyan Black Diaspora.
The Black Modern exhibit will emphasize the present cultural and intellectual cultivations and achievements of the Wesleyan Black Diaspora. This exhibition will highlight the absurdity and exclusion of Eurocentric modernism, and will ideally leave the audience with a different perspective on defining progress and success.
Although I attempt to be neutral when presenting these components and their functions, I recognize that objectivity is nearly impossible, so I'll take an abstract approach to such a delicate issue as race-related modernity. I refuse to investigate the reason for each piece's existence; instead, I wish to highlight why these vital items exist in my personal collection.
History of African American Studies at Wesleyan (2019)
In a 2019 Edition of the Wesleyan University Magazine, The history of African American Studies at Wesleyan is highlighted. The chronological exploration showcases and uplifts the administration, professors, and students who helped to build and grow the prominent program.
Larry Neal Poetry Readings (1969)
Larry Neal (1937-1981) was an African-American academic best known for his contributions to the Black Arts Movement of the 1960s and 1970s. His records, which were collected when he was a Wesleyan faculty member, demonstrate Wesleyan's ability to recruit and build from brilliant Black scholars. In this 35-minute recording, Larry shares his poetry and engages in conversation with fellow academic peers about the creative genres of gospel and blues. His poetry reading begins at the 1:15 mark
Student Contributions to The Ankh Fall 2016 Edition (2016)
One of the many student creatives who employ their artistic abilities to examine their existence and make societal statements is Kai Williams, whose poem "Self-Care Shall Not Be Trivialized" is featured in the student-of-color run magazine, "The Ankh".
West African Drumming at Wesleyan University (2020)
Above is a video that showcases the power of diasporic music, students experience an introduction to traditional West African music and culture that is both practical and academic. Through oral transmission, assigned readings, video viewing, and guided listening to commercial and/or field recordings, and oral transmission, students get a chance to explore the rhythms, melodies, gestures, and languages of Ghana and its surrounding nations. This interdisciplinary method of teaching is consistent with West African music, which combines hand clapping, singing, dancing, and drumming. The variety of instruments that students learn to play includes gourd rattles, metal bells, and drums.
Ujamaa: The Wesleyan Black Student Union Meet Up (2022)

The first Ujamaa meeting of the 2022-2023 school sees large turnout, as students come together to take a group photo after intellectual and cultural discussion in the Malcolm X House Basement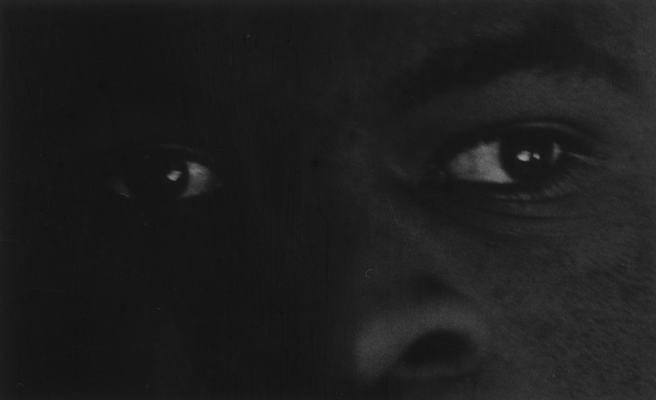 Unnamed (2023)

Anthony Crossman '26, an aspiring photographer and resident of the Malcolm X House shares a dark room photo he has developed for his ongoing portfolio.
The Historical Background of Malcolm X House (1969)
Black students at Wesleyan recognized the importance of creating an environment for the Middletown black community that would allow for innovation, cooperation, and support. The African American Studies Department teaches Black students the purity, vitality, continuity, and strength of the diverse Black experience.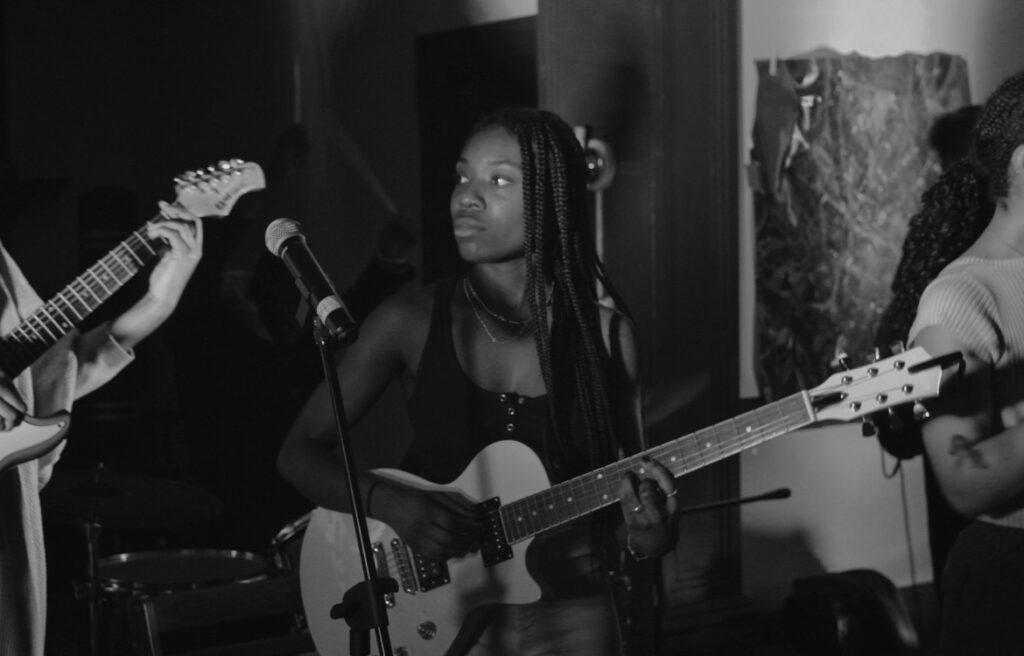 Black Raspberry Performance (2023)
A year ago, a few sophomores had a favorite ice flavor and an aspiration to become Wesleyan's first Black band. The all-Black ensemble "Black Raspberry" has seized center stage at Wesleyan and is currently playing all over campus and the greater Middletown community. They are truly making their dreams a reality, one r&b ballad at a time. Pictured below are members performing on campus earlier in the spring semester of 2023. Black Raspberry highlights creativity, talents, and all-around autonomy when it comes to pursuing cultural productions.
---
My Take on Modernity and the Rhetoric Surrounding Progress.
Modernity is a complicated and nuanced idea that has generated a lot of discussion and disagreement over the years. Fundamentally speaking, modernity is frequently linked to the emergence of capitalism, industrialization, and the diffusion of Western ideals. Given the immense social, economic, and cultural transformations civilizations underwent throughout this time, it is common to refer to it as an era of progress.
The Enlightenment, a time of intellectual and cultural advancement that started in Europe in the 17th century, may be credited with giving rise to modernity. The Enlightenment established the foundation for many of the political, social, and economic developments that would come to define modernity. It was defined by stress on reason, science, and individualism. Thinkers including John Locke, Jean-Jacques Rousseau, and Immanuel Kant created novel theories about human nature, society, and governance during this period that would have a significant influence on the creation of modern civilizations.
One of the primary characteristics of modernity is the emergence of capitalism, an economic system based on private ownership of the means of production and the production of products and services for profit. Due to European powers' colonization and exploitation of non-Western nations, capitalism first appeared in Europe in the 18th century and swiftly expanded to other areas of the world. Industrialization, or the process of creating industries and factories to create commodities on a massive scale, was intimately related to the advent of capitalism. Significant technological, transportation, and communication advancements brought about by industrialization fueled economic expansion.
The difficulty with the notion of what is considered "modern" is that it has and continues to be used to defend colonialism, imperialism, and other types of oppression. For instance, the notion of modernity was used to support the colonization of non-Western countries by presenting them as "backward" and in need of Western "civilization." The exploitation of non-Western nations and the encroachment of Western institutions upon them were both justified by this theory. The colonization process resulted in the exploitation of many indigenous peoples' resources as well as the destruction of several indigenous civilizations, which continues to have an impact on those countries today. The concept of modernity is also too linked to Western ideals and culture, ignoring the contributions of non-Western nations to human advancement.
It is necessary to redefine modernity to consider the contributions made by all cultures to the advancement of humanity. Modernity should be considered to encompass all cultures' contributions to human development, not simply Western societies.
Acknowledging the contributions of all cultures and societies to human progress would contribute to the development of a more inclusive and diversified conception of modernity. Furthermore, it is crucial to critically assess the notion of modernity as we continue to face contemporary difficulties and to strive toward developing a more inclusive and diversified concept of human development that does not just focus on Western advancements.

Everyday Examples of Black Modernity
Black people have shaped modernity and the world we live in today, from ancient African civilizations to the African diaspora. Ancient African civilizations like Egypt and Ethiopia made crucial contributions to philosophy, mathematics, architecture, and the arts. For instance, the ancient Egyptians invented a writing system and built magnificent structures like the Pyramids and the Sphinx. African literature, dance, and music have also impacted and inspired musicians and artists all around the world. For instance, African music and rhythms are the sources of jazz, a uniquely American art form.
African American activists who were active during the American Civil Rights Movement, including Rosa Parks and Malcolm X, were instrumental in the fight for social justice and civil rights. through advocating for more social justice and equality as well as through questioning the existing quo, their activism contributed to the shaping of modern society. Additionally, throughout history, black people have significantly contributed to art, music, literature, and culture. For instance, the 1920s and 1930s' Harlem Renaissance was a cultural movement that hailed the originality and accomplishments of black musicians, authors, and painters. A more diversified and inclusive cultural environment resulted from this movement's contribution to the development of new forms of expression and the challenging of conventional cultural standards.
People all across the world have been impacted by and inspired by the vivid, dynamic cultures that Caribbean people have produced. World popular music has been greatly influenced by Caribbean music, particularly reggae and calypso. Caribbean people have also produced significant advances in industry, science, and technology. Millions of individuals all around the world have benefitted from a cataract surgery gadget developed by the Jamaican scientist Dr. Patricia Bath.
We can contribute to the development of a more inclusive and diversified perspective of human progress that acknowledges the accomplishments of all cultures and societies by recognizing the contributions of Black people to modernity. The promotion of greater cultural variety and understanding will truly aid in the challenging and eradication of preconceptions and prejudices that restrict our comprehension of the world and its inhabitants. Inequalities and injustices that continue to impact black people all across the world must be addressed, notwithstanding the numerous contributions made by Black people to modernity.
Black people's prospects and potential continue to be severely restricted in many nations by racism, discrimination, and prejudice. But by taking a step back and acknowledging every marginalized community's historical, contemporary, and future contributions to our society as a whole, we can help the battle against these injustices and promote a culture of justice and equity.
About the Curator
Christina Onuzuruike '24 is the developer of the concept and curation of "The Black Modern" Exhibit. Together with the help of her Professor and peers in History 330: Introduction the Public History, she has created an exhibition that highlights the lasting legacy and fascinating future of the Black Diaspora of Wesleyan University. She is a student of African American Studies and Film and aspires to utilize the tools she has been given at an institution like Wesleyan University, to continue to give a platform to Black Voices. She aims to showcase the often neglected aspects of the diaspora. But most importantly, when given the opportunity she desires that those who engage with her creative works leave with a deeper understanding of the abstract yet beautiful positionality of Blackness and Black beings.
Primary Works Cited
Crossman, Anthony. Unnamed. Photograph. Middletown, 2023. Middletown.
Danquah, Kyla. Ujamaa Fall 2022 Meeting. Photograph. Middletown, September 15, 2022. Middletown.
Maeyama, Jocelyn, and Jesse Nasta. "A Brief Representative History of African American Studies at Wesleyan." Wesleyan University Magazine, February 3, 2020. https://magazine.blogs.wesleyan.edu/2019/05/20/a-brief-representative-history-of-african-american-studies-at-wesleyan/.
Neal, Larry. "Larry Neal Tapes." Lecture, 2023.
Wesleyan University West African Drumming and Dance Concert. YouTube. YouTube, 2020. https://www.youtube.com/watch?v=TXeMMQHFoQs&t=580s.
Williams, Kai. "The Ankh," 2016.
Zepeda, Samara. Black Raspberry Performance. Photograph. Middletown, 2023. Black Raspberry.
Secondary Works Cited
Afro@Digital. California Newsreel, 2018. https://newsreel.org/video/afro-digital.
The Ankh. "Fall 2016." Issuu, April 17, 2017. https://issuu.com/theankh1/docs/fall2016compressedissuu/1.
"Changing the Face of Medicine | Patricia E. Bath." U.S. National Library of Medicine, June 3, 2015. https://cfmedicine.nlm.nih.gov/physicians/biography_26.html.
Gilroy, Paul Black Atlantic: Modernity and double consciousness. NY, NY: VERSO BOOKS, 2022.
Lahut, Jake. "Gone but Not Forgotten: A Mocon Retrospective." The Wesleyan Argus, 2017. http://wesleyanargus.com/2017/05/08/gone-but-not-forgotten-a-mocon-retrospective/.
"Larry Neal." Poetry Foundation. Poetry Foundation. Accessed March 4, 2023. https://www.poetryfoundation.org/poets/larry-neal.
Maeyama, Jocelyn. "'Before 1619: Lineages and Legacies': Black History Month Committee Commences Programming." The Wesleyan Argus, 2020. http://wesleyanargus.com/2020/02/03/black-history-month-explores-before-1619-lineages-and-legacies/.
Rosenberg, Gabriel. "Malcolm X House Increases Presence." The Wesleyan Argus, 2012. http://wesleyanargus.com/2012/10/25/malcolm-x-house-revamps-efforts-to-engage-students-community/.
Smith, Emma, and Lia Franklin. "Ujamaa, Wesleyan's Black Student Union, Issues List of Demands to Administration." The Wesleyan Argus, 2020. http://wesleyanargus.com/2020/09/11/ujamaa-wesleyans-black-student-union-issues-list-of-demands-to-administration/.